Bathroom
Question Topic
Bathroom Paint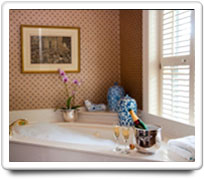 Home-Wizard™ calculates your ideal home care program to avoid problems with your Bathroom, but sometimes trouble can still occur. Here are answers to questions about bathroom paint.

QUESTION FROM Wendall
Can I use Krylon paint on my plastic shower floor? Due to the water will the paint chip or peel on the shower floor?
---

ANSWER FROM HOME-WIZARD
Dear Wendall:

I would recommend using an epoxy-based paint. And as with most painting tasks, proper preparation is the key.

First, sand the entire area to be painted with 320 grit paper. Be careful not to sand through the gel coat. You just need to sand until it hazes over and the finish becomes dull.

Next, clean the shower with muriatic acid. MAKE SURE YOUR BATHROOM IS WELL VENTILATED while using the muriatic acid, as it puts out strong fumes. Then rinse the entire thing with water and let dry completely.

Next, use a good quality primer.

And then use a good epoxy-based paint in the color of your choice. Always use a spray gun or spray can, never brush or roll the paint on.

Hope this is helpful.
Home-Wizard.com