Garbage Disposal
Question Topic
Garbage Disposal Disposal Will Not Work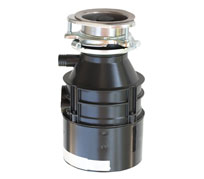 Home-Wizard™ calculates your ideal home care program to avoid problems with your Garbage Disposal, but sometimes trouble can still occur. Here are answers to questions about garbage disposal disposal will not work.

QUESTION FROM JC
One day my garbage disposal system was working fine, the next, I can hear the motor faintly trying to run but disposal does not move. Anything I can do before calling a plumber???
---

ANSWER FROM HOME-WIZARD
Dear JC:

Have you tried unplugging the power from your disposal, and then using an allen wrench in the bottom of the unit to turn the rotor back and forth to dislodge what could be stuck in it?

Remember, NEVER put your hand inside of a garbage disposal, even when its turned off, as the rotor blades are very sharp.

For routine maintenance to help keep problems like this from happening to your garbage disposal, please look in our online Maintenance Library.

Hope this is helpful.
Home-Wizard.com

QUESTION FROM Ross
When looking into the disposer, the small center piece spins but not the blade. I used the hex, I reset, and the center piece spins, but is not attached to the inner blade. Did a weld break or something?
---

ANSWER FROM HOME-WIZARD
Dear Ross:

Please be VERY, VERY CAREFUL when looking into a garbage disposal that is turned on. You should be wearing EYE PROTECTION, and if it were me, I'd be wearing a FACE AND NECK SHIELD. A garbage disposal typically has a slotted rubber boot across the opening to the sink, that helps keep things from flying out when it is running. I assuming that you are pushing this back so that you can see inside. But again, please be very, very careful.

With that said, if the motor is turning freely, but the blades are not moving, then it sounds like you have a broken coupling. Depending on the age of your disposal, you might want to call around to local service technicians to see if it makes sense to replace the coupling, or if you are better off replacing the entire disposal.

Hope this is helpful.
Home-Wizard.com