Refrigerator/Freezer
Question Topic
Refrigerator/Freezer Compressor Won't Work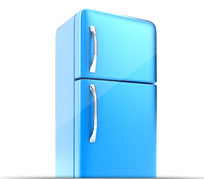 Home-Wizard™ calculates your ideal home care program to avoid problems with your Refrigerator/Freezer, but sometimes trouble can still occur. Here are answers to questions about refrigerator/freezer compressor won't work.

QUESTION FROM Judy D
The compressor on my 5-year-old built in GE Monogram refrigerator was replaced last week. It was fine at first but now, after 6 days, I can NOT open the bottom freezer drawer. (There is almost nothing in the freezer since it was cleaned out prior to the repair and only has one loaf of bread and some blue ice in it so they can't be blocking it.)It is like it is locked. HELP!!!
---

ANSWER FROM HOME-WIZARD
Dear Judy D:

If you have a hair dryer, you can use it on its medium temperature setting to gently warn the seal on your freezer door to melt the ice to get the door to open.

Once you get it open, you should check the seal on the door to see if it is allowing moisture to leak past it, which could be why the door is freezing up on you. With your new compressor it could be cooling your freezer more and exaggerating the door seal problem.

Hope this is helpful.
Home-Wizard.com

FOLLOW-UP FROM Judy D
Thanks so much. I'll try it and let you know.
---

ANSWER FROM HOME-WIZARD
Dear Judy D:

You are very welcome.

One additional thought . . . since you don't have much food in your freezer right now, you might want to consider turning it off while you are warming the door seal with your hair dryer.

Hope this works for you. If not, just let us know, and we'll try to come up with something else for you.

Regards,
Home-Wizard.com