Washing Machine
Question Topic
Washing Machine Clogging Problems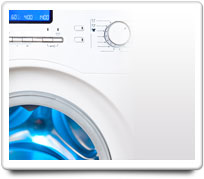 Home-Wizard™ calculates your ideal home care program to avoid problems with your Washing Machine, but sometimes trouble can still occur. Here are answers to questions about washing machine clogging problems.

QUESTION FROM Kay Chertkov
I have a Kenmore 90 automaticv series washer. The fabric/bleach disenser on the left side is clogged. I have tried to find a hole where it might be clogged, but to no avail. Can you help me?
---

ANSWER FROM HOME-WIZARD
Dear Kay:

The part that holds your fabric/bleach dispenser should allow it to be removed. You can then soak the dispenser in very hot water for 10-15 minutes, then use either Dawn liquid soap or white vinegar and an old toothbrush to scrub the residue off of the dispenser.

Hopefully this will fix the problem for you.
Home-Wizard.com

FOLLOW-UP FROM Kay Chertkov
Thank you for the advise on the washer dispenser. Now I have another problem. when I decided to paint an interior door, I used blue tape around the door handle so not to get paint on the rim. The paint leaked thru and now I can't remove it without taking the handle off. There are no screws anywhere on the handle. There are 2 small slots on the side rim where the push lock is. (This handle is the cheap kind used by builders). Can you help me?
---

ANSWER FROM HOME-WIZARD
Dear Kay:

Glad to help.

I suspect that if you had a very small flat-head screwdriver, or a stiff paperclip, that you could push them into the slots and get the rim to pop off. Then underneath the rim, you should be able to find the screws to take the handle off.

If this doesn't work for you, if you could let us know what is the specific brand of door handles that you have, we can try to help you further.

Hope this is helpful.
Home-Wizard.com

QUESTION FROM Jack
My daughter just called, in tears. She just discovered that her 3 month old washers is filled with water and remnants of garbage, apparently from the disposal is in the mix. Does sound like a clogged drain problem?
---

ANSWER FROM HOME-WIZARD
Dear Jack:

From your description, there are a couple of things that could be causing food remnants to be coming into your washing machine:

1) Yes, as you suspected, there could be a clog in your drainage piping, which could be causing water from your garbage disposal to backup into your daughter's washing machine. A quick way to check this is to fill up the sink with water, then pull out the stopper and see how quickly or not the water drains out. If it drains slowly, then she can try using the appropriate Drano type product (please be sure to read and follow the directions carefully).

2) You or she should check that the drain hose from the washing machine to ensure that it rises to at least the level of your sink rim. Plumbing codes specify an air-gap device which prevents backup water from siphoning from your disposal into usually the dishwasher, but it sounds like the drainage for your daughter's washing machine could be on this line.

3) And just to cover all of the bases, if your daughter has children, is it possible that one of them left food in their clothing? One of my kids left a sandwich in a sweatshirt once, and it created a food mess in the washer.

Hope this is helpful.
Home-Wizard.com