Washing Machine
Question Topic
Washing Machine Overflowing Water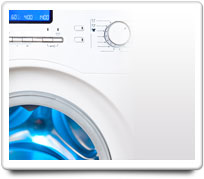 Home-Wizard™ calculates your ideal home care program to avoid problems with your Washing Machine, but sometimes trouble can still occur. Here are answers to questions about washing machine overflowing water.

QUESTION FROM cowboy_up
My Kenmore washer, model 110.91220100, sometimes overflows. This problem is intermittent, and I believe I have traced the problem to the water inlet valves. However, I am not %100 on this. How do I know if it is in fact the inlet valves or if it might have something to do with the pressure switch?
---

ANSWER FROM HOME-WIZARD
Dear cowboy_up:

If your washing machine is overflowing from time to time, the problem could be one of the water inlet valves, or it could be the pressure switch.

One way to test to see whether it is the water inlet valves or the pressure switch, is to run your washer with just hot water, and then run it again with just cold water. If it overflows when running either hot or cold, then the problem is likely your pressure switch. If your washing machine just overflows for only one of the valves (i.e., just running hot or cold water), then this valve is likely the problem.

Hope this is helpful.
Home-Wizard.com

QUESTION FROM D.Wilder
Lately we can hear water flowing through the hose connected to our washer even though it is not being used at the time. Is this something we should have a plumber come and check? We finally turned both faucets off.
---

ANSWER FROM HOME-WIZARD
D.Wilder:

When you say you "hear" water flowing through the hose that is connected to your washer when it is not running, do you mean that you just hear it, or do you also see the water coming into your washer at the same time? And if so, does it fill up your washer and then stop?

If you don't see the water coming in, then this water could be flowing somewhere else, but because the hose comes out of the wall, you hear the sound from the hose.

If its not coming into the washer, then the question is whether this flowing water is going someplace that it is suppose to be going, or is it leaking inside a wall or foundation.

And did the water sound stop when you closed the faucets to the hoses for your washer? If it did stop, then you probably want someone to come out and check the solenoid valves and timer on your washing machine. If the sound did not stop, then you probably want someone to come out to see if there is water leaking somewhere (unless you know for sure that the water is going to a dishwasher, baseboard water heating system make-up water, etc.).

Hope this is helpful.
Home-Wizard.com