Washing Machine
Question Topic
Washing Machine Won't Cycle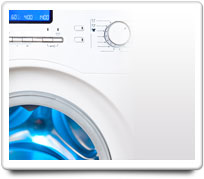 Home-Wizard™ calculates your ideal home care program to avoid problems with your Washing Machine, but sometimes trouble can still occur. Here are answers to questions about washing machine won't cycle.

QUESTION FROM Melissa
I have a kenmore ultra fabric care washer that will not move through the cycles. I have to manually turn the knob through each step. What is causing this?
---

ANSWER FROM HOME-WIZARD
Dear Melissa:

If your Kenmore washer will not move through the cycles, but it will operate when you manually go through each step, then I would suggest that you need to check your timer line switch. If you have a voltmeter and an owner's manual for your specific model washer (Ultra Fabric Care), you can check your voltage timer switch yourself (remember to check with your unit UNPLUGGED).

Hope this is helpful.
Home-Wizard.com