Fireplace (gas)
Question Topic
Fireplace (Gas) Gas Fireplace Units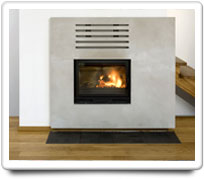 Home-Wizard™ calculates your ideal home care program to avoid problems with your Fireplace (gas), but sometimes trouble can still occur. Here are answers to questions about fireplace (gas) gas fireplace units.

QUESTION FROM Gerald R Jenkinson Sr
Is there a gas fireplace intert unit available that is equips with co detector to shut down automatically?
---

ANSWER FROM HOME-WIZARD
Dear Gerald:

Yes, there are gas fireplace units that are equipped so that they will automatically shut down the fireplace if CO levels in the room get too high.

What you should look for are gas fireplace units that are approved by the American Gas Association ("AGA"), and that are equipped with an Oxygen Depletion Sensor (ODS). This sensor can tell how much oxygen is left in the air near the bottom of your floor. The way it works is that as carbon monoxide starts to build up in the room, it dilutes the amount of oxygen in the room. And this then activates the sensor and the gas shuts off to the logs.

Hope this is helpful.
Home-Wizard.com