Washing Machine
Question Topic
Washing Machine Abrupt Shut Down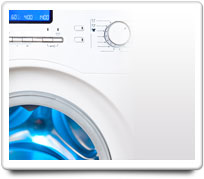 Home-Wizard™ calculates your ideal home care program to avoid problems with your Washing Machine, but sometimes trouble can still occur. Here are answers to questions about washing machine abrupt shut down.

QUESTION FROM Cathy
I have a Maytag front loader washing machine,all of a sudden when I put it on it runs for 10 seconds and shuts off,that is on all cycles and spin.No matter where I set it the most it goes on is for 10 seconds then stops.Can you help
---

ANSWER FROM HOME-WIZARD
Dear Cathy:

Most of the time, a washing machine stopping like this at the beginning of each cycle is due to a problem with the door switch, which tells the washer that the door is closed. If this switch is bad, or loose such that it trips the washer each time the cycle begins, then it could be what is causing your washer to keep stopping.

The other possible option is that there is a problem with your washer's timer mechanism.

Hope this is helpful.
Home-Wizard.com

FOLLOW-UP FROM Cathy
Thanks so much for your advice, I will check that out.